Stand with Ukraine. Save peace in the world!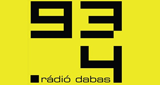 Dabas
A Rádió Dabas 2007 nyarán kezdte meg a működését az FM 93.4-en. Az adó nem csupán Dabason, hanem annak 50 kilométeres körzetében hallgatható. A rádió alapvető célja, hogy a környék lakosságának hiteles információkat nyújtson a térség történéseiről, a lehető leggyorsabban. A dolgozók fontos törekvése, hogy szórakoztató, érdekes, ugyanakkor elgondolkodtató műsorokkal szolgálhassanak a hallgatók számára. Emellett természetesen nem hiányozhatnak a jó és igényes zenék sem, kiemelt figyelmet fordítva a magyar előadók dalaira.
Dabas reviews
Naprakész hírek, információk, színes riportok, hasznos tanácsok.
Radio contacts
Faxszámunk: 29/562-560
SMS vonalunk: 30-5-934-934
Telephone: 29/562-564
Email: [email protected]