Stand with Ukraine. Save peace in the world!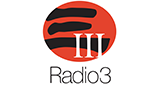 RTHK Radio 3
RTHK Radio 3 is a broadcast radio station in Hong Kong, China, providing News, popular music, information, romance, comedy, reality, sports and education programmes. RTHK (Radio Television Hong Kong 香港電台) is a public broadcasting network in Hong Kong and an independent department in the government's Broadcasting Authority.
RTHK Radio 3 reviews
It's my tv first time as your listener and I love all the playlists. Just wondering if I can make a song request too?! Thank you so much, more power to your show.

i have to take issue with HK Heritage this morning. I think it's a wonderful programme, but this morning the programme states many time that Palmer and Turner built many buildings. P&T never built anything. They designed these buildings, but they never built anything.

Peter King is my favourite Radio3 personality and I love his Sentimental Jouney programs at mid nights .

I love Steve James afternoon DJ. He's a great radio personality!!

Romaprasad Rai

12.02.2020

Very good !

AM quality of sound but it works well every time. You do not need a lot of data bandwidth for this application either which is great. I am glad I found this application .