Stand with Ukraine. Save peace in the world!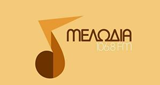 Melodia
Μελωδία FM 106.8 είναι μια εκπομπή Ραδιοφωνικός σταθμός από την Τρίκαλα, Ελλάδα, παρέχοντας Top 40 / Pop, Ελληνική Μουσική.
Show more
Information about the radio
Πιάσε Μελωδία γιατί όταν είσαι παρέα με τον καλύτερο σταθμό της πόλης οι μέρες περνάνε πιο όμορφα! Ο Μελωδία εκπέμπει στους 106.8 και φυσικά στο Live24.gr. O σταθμός παίζει διάφορες ελληνικές επιτυχίες. Να σας πούμε έτσι για την ιστορία πως η πόλη των Τρικάλων είναι χτισμένη πάνω στην αρχαία πόλη Τρίκκα ή Τρίκκη, η οποία ιδρύθηκε γύρω στην 3η χιλιετία π.Χ. και ονομάστηκε έτσι από τη νύμφη Τρίκκη, κόρη του Πηνειού ή κατ' άλλους του Ασωπού ποταμού. Η πόλη ήταν σημαντικό κέντρο της αρχαιότητας, καθώς εδώ έζησε και έδρασε ο Ασκληπιός, που σήμερα αποτελεί έμβλημα του Δήμου Τρικκαίων, ο οποίος ήταν και βασιλιάς της πόλης.
Radio contacts