Stand with Ukraine. Save peace in the world!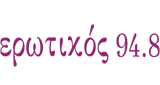 Eroticos FM
Thessaloniki, 94.8 MHz FM
Ο Ερωτικός εκπέμπει όλες τις φράσεις εκείνες που θέλεις να ξεστομίσεις όταν είσαι ερωτευμένος! Τραγούδια,μουσικές,μηνύματα.... Όχι τυχαία ,όχι ανούσια,όχι πρόχειρα... Κάθε τραγούδι είναι μια φράση... Κάθε εκπομπή μια εξομολόγηση... Κάθε στίχος ένα κλάμα... Αυτό είναι ο Ερωτικός... Αυτό που θες να βγεις να το φωνάξεις σ όλον τον κόσμο,αλλά κι αυτό που θέλεις να κρύψεις βαθιά μέσα σου για να μην το μάθει κανείς!
Eroticos FM reviews
Θέλω να πω ότι δεν τον άκουγα,τον γνώριζα,τον πετύχαινα κ γελούσ με τις ατάκες που έβαζε παλιά.Δεν ξέρω αν θυμάται κανείς αλλά συχνά πυκνά έβγαινε κάποιος πολύ καψούρης κ μιλούσε,Δεν κοροιδευάμε αλλά γελούσαμε με τον τρόπο που τα έλεγε.ΠΟλλά χρόνια μετά ,ερχόμενη στην άσχημη χώρα της Γερμανίας...τον εκτίμησα όπως του αξίζει.Πραγματικά είναι ένας ποιοτικός σταθμός.Τον συστήνω ανεπιφύλακτα...κ χαίρομαι με την κυρία από κάτω που ακούει ελληνική μουσική...η μουσική ευφραίνει την καρδιά

Very nice greek music . . . . unusual, not the main-stream but gem pieces of music . . . I can recommend it to everyone who loves Greece and its culture . . . . sitting on a rainy day in an ICE Train to Cologne Germany . . . enjoying the sunshine through my ears . . .

Υπεροχή μουσικη

Alexander Tarasenko

10.07.2018

Super!