Stand with Ukraine. Save peace in the world!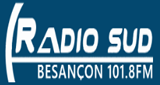 Radio Sud Besançon
Radio Sud Besançon est une station de radio locale française diffusée dans l'agglomération de Besançon sur la bande FM avec la fréquence 101,8 MHz. Elle a été créée en 1983 par Hamid Hakkar.
Show more
Radio Sud Besançon reviews
C'est quoi cette radio mais il y a pas de rap

✨✨

Muttalip Arslan

28.04.2023

Magnifique 💪🏻

Patrice Cordier

17.10.2022

En direct je suis ton émission, bravo pour la programmation et ton ton cher cousin Hub.

Noureddine Bouhaddi

14.04.2022

Inadmissible de lancer des chansons occidentales avant Iftar

Ok une radio agréable.

Bravo à l'émission sportive

Bien joué dans le pluridisciplinaire...

Corentin Baudier

16.08.2019

Bonjour à tous , je vous remercis pour toute cette diversité de musique, superbe musique et radio .
Information about the radio
Radio Sud Besançon a été créée dans la Cité de l'Escale, une cité de transit en périphérie de Besançon qui a accueilli à partir des années 1960 des immigrés algériens, tous originaires de la même région des Aurès. La cité de l'Escale, qui ne comportait aucun équipement public, étant à certains égards qualifiée de bidonville, vivait à l'écart de la vie citadine et avait mauvaise réputation dans le reste de la ville. Les habitants, souhaitant donner vie au quartier et en donner une meilleure image, créent en 1982 une association baptisée ASCE (Association Sportive et Culturelle de l'Escale). Un de ses fondateurs, Hamid Hakkar, qui est également formateur auprès de jeunes en difficulté, a alors l'idée de créer une station de radio pour entrer en contact avec le reste de la population de Besançon. Les premières émissions de Radio Sud sont diffusées en janvier 1983. Elles remportent vite un vif succès dans la Cité. En 1984, la station se sépare de l'ASCE et créé sa propre association baptisée Collectif Radio Sud. Radio Sud est reconnue par le CSA en 1985 et perçoit ses premières subventions en 1986-1987. A l'étroit dans ses locaux, la radio déménage alors dans le quartier de Saint-Claude jusqu'en 1995 puis dans celui de Planoise où elle se trouvait encore jusqu en 2007. Actuellement, après la fabrication de nouveaux locaux, Radio Sud se trouve 2h de la rue Bertrand Russell, toujours dans le quartier de Planoise, à Besançon.
Radio contacts