Stand with Ukraine. Save peace in the world!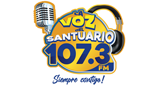 Radio La Voz del Santuario
Emisora con una programación que entretiene durante las 24 horas, con variedades, notas deportivas, noticias locales, la Santa Misa, información, servicios a la comunidad, sucesos regionales e internacionales en su frecuencia.
Radio La Voz del Santuario reviews
Sebitas Curipallo

21.09.2023

Me puede complacer una canción tu retrato

María Belén Poveda Martínez

15.10.2021

Buen día

Alexandra Chávez Vega

15.03.2021

ESTA MUY BIEN LA EMISORA AHORA QUE PUEDO CONECTARME LOS ESCUCHO

KayledYandel Sanchez

11.05.2020

buenas tardes por favor que las clases de catecismo se de también por face en vivo por favor gracias

Bueno llevo días, que no me deja escucharla, yo los sigo desde España, por el telefono móvil, osea, por gogle, gracias y ojala lo pueda solucionar

Darwin Javier Moya Vega

05.04.2020

Hola me llamo Darwin Javier Moya Vega les envío mis apoyos a todos los bandeños que sigan así con el confinamiento en su casita vamos a salir de esta y muchos saludos a mi familia la familia Moya hay en pitis y a la familia Vega ahí en en el centro la familia Vega Merino mucha fuerza hermanos que vamos a salir de esta

Josemiguel Gonzalez Ibañez

12.03.2020

Hola soy jose desde españa y llevo semanas que no puedo escuchar la emisora por internet. Gracias

DISCULPEN BUENAS TARDES!!me podrían por favor darme información sobre el anunciado del medio día de jóvenes para una empresa? Gracias!!

Gladys Iturralde

12.05.2019

Buenos días un saludo cordial a mi madre querida ELVITA BASTIDAS de parte de su hija y sus nietas y que la queremos mucho y q pase un hermoso dia

Buenas tardes podría decir los partidos a disputar este sabado y el domingo?