Stand with Ukraine. Save peace in the world!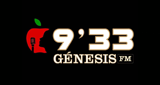 Génesis
Radio Génesis 93.3FM is a broadcast radio station in Azogues, Ecuador, providing Pop and Disco music, and News, Sports and Information
Génesis reviews
Jorge Iván Chuya Chuya

19.07.2021

SALUDOS AL PERIODISMO VERAZ DE RADIO GENESIS..SIGAN ADELANTE...HOY EL MAGISTERIO ESTÁ DE LUCHA EN DEFENZA DE LAS REFORMAS A LA LOEI QUE FAVORECE TODO EL SITEMA EDUCATIVO: ESTUDIANTES PADRES DE FAMILIA Y MAESTROS.

Jorge Maldonado

17.05.2020

Sigan para adelante,felicitaciones para los que componen está Radio Génesis,saludos

Me encanta ❤😍desde Filafelfia saludos

jorge vicente mendez mendez

20.05.2018

Buen dia les saluda la Familia Mendez felicitaciones a todos sus directivos, escuchando desde hace un mes al Padre Victor Manuel Toapanta muy pocos sacerdotes creo que tienen ese don de llegar al corazon de sus fieles y segun me entero que no tiene parroquia por varias causas sin embargo pedimos por las vocaciones sacerdotales hay iglesas que no tienen sacerdotes y hay sacerdotes que no tienen iglesias ..... una sugerencia si fuera posible mejorar el audio un poco mas nitido para escucharles por internet los que estamos fuera del pais les felicito por tener exelente programacion sigan adelante.

Edgar Patricio Hernandez Deleg

18.03.2018

grasias por sus consejos padre de Patricio Hernandez

Franklin Andrade

08.02.2018

Desde la última vez que entrevistaron a @MashiRafael tuve la oportunidad de sintonizarlos vía Online y me dió mucho gusto conocer el servicio radial que ofrecen. Felicito por la cobertura comunicacional que tuvieron con nuestro ex presidente demostrando imparcialidad y profesionalismo a pesar de las presiones políticas de ese momento. También felicito por el trabajo radial que realizan cada día y por vuestra variada y muy agradable programación. Actualmente los sintonizo con frecuencia y son una de mis emisoras favoritas. Sigan adelante, éxitos siempre. Soy Franklin Andrade y les escribo desde Guayaquil.
Radio contacts
0995267565