Stand with Ukraine. Save peace in the world!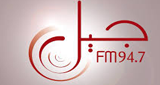 JIL FM
Jil Fm is a young and music radio, which means that in addition to the music there has informative content, cultural, and educational, its mission is to find a balance between distraction music and facts. Musical emissions constitute the largest programs as highly valued by this segment of the populati it, music is the most popular art and closest expectations and needs of young people in terms of cultural emotion and artistic creativity.
Show more
JIL FM reviews
Youcef Belaâla

10.04.2022

تحية كبيرة لكل طاقم جيل اف ام , اذاعة فالمستوى و دايمن نتبعها كي نكون فالسيارة ولا فالدار ! بالتوفيق انشاء الله لمزيد من النجاحات و التألق

- de blabla +de musique

Bendraoua Abdelaziz

09.03.2021

l'émission de Mme Mimouna Maghli il faut inviter les universitaire spécialiste dans le domaine de l'environnement et le risque majeur catastrophe

JIL FM C ME COUP 2 FOUDRE

من بجاية بضبط بني كسيلة ع شط لبحر وكاس اتاي ومكسرات والقعدة الزينة كي تبا ضربا مع اربن يا خويا ي خويا .

bien

Pourquoi cette station (94,7) ne marche pas pour moi le son n'est pas claire.

خويا جمال تحية خالصة ليك وجميع الطاقم يعطيك الصحة

soufiane achour

16.02.2020

chlef

سلام
Information about the radio
Bienvenue à l'écoute de votre radio, Jil Fm!
Jil Fm est une radio jeune et musicale, ce qui signifie qu'en plus de la musique il y a du contenu informatif, culturel, et pédagogique, elle a pour mission de trouver un équilibre entre la distraction par la musique et les infos utiles.
Les émissions musicales constitueront le plus gros des programmes car très appréciés par cette frange de la population, la musique constitue l'art le plus populaire et le plus proche des attentes et des besoins des jeunes en termes d'émotion culturelle et de créativité artistique.
Jil Fm devra jouer un rôle important dans l'information et la sensibilisation de ses auditeurs sur l'ensemble des mécanismes d'insertion professionnel, de création d'entreprise et d'emplois et de la formation pour les métiers et artisanats.
La culture qui n'est pas en reste, sera un axe important autour du quel, l'ensemble des programmes devront s'appuyer pour faire découvrir ou redécouvrir, promouvoir et informer sur la richesse de notre patrimoine matériel et immatériel.
l'information national et international orientée vers les jeunes sera sous forme de flash et de brèves.
Être là où est l'action crée l'événement, parfois même l'initier, les retransmissions et diffusions en direct feront de cette radio jeune le prolongement de ce lien qui est la devise de Jil Fm.

A chaque événement important que vivra le pays, que ce soit un festival culturel, une date historique, un salon professionnel, une rencontre sportive ou encore un concert, Jil Fm délocalisera ses programmes pour donner a cet événement toute sa dimension et sensibilise la jeunesse.
Les émissions de nuit auront un rôle d'écoute avec une approche très particulière sur le vécu de cette jeunesse et sur les maux qu'elle vie.

"D'un ton jeune, chaleureux, énergique, calme,avec un équipe très dynamique Jil Fm Radio vous accompagne à chaque heure de la journée pour vous détendre, vous faire rire, mais aussi vous faire danser, chanter, bouger... et bien sûr vous faire découvrir toujours de nouveaux groupes et styles musicaux.

Les fréquences de Jil Fm :

01-Sur les ondes :

Région Centre : 94.7 FM.
Région Est : 531kHz OM. « ONDE MOYENNE » (en KILO HERTZ).
Région Ouest : 549khz OM. « ONDE MOYENNE » (en KILO HERTZ).


02-sur le satellite :

Atlantic bird : (ab3) fréquences 11059.5 MHS / HORIZONTALE.
SR : 23.704 SYMBOLES P763V8191A763
Le nom : RADIO JEUNESSE.
Radio contacts