Stand with Ukraine. Save peace in the world!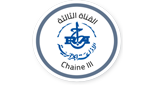 Radio Algerienne - Chaine 3
Algiers, 88.4-105.4 MHz FM
La chaîne 3, Un réseau national et international. Information immédiate et fiable, Un programme adapté au rythme de vie des auditeurs. Des émissions de haute qualité. La chaine trois grâce à son équipe dynamique vous fait découvrir et vous fait connaitre a travers ses programmes riches et varies l'Algérie.
Radio Algerienne - Chaine 3 reviews
Michale Michale

13.02.2023

azul je suis yanni a bejaia j'aime beaucoup cette chaine 3

Chaîne 3 nostalgie

Belkacem Siari

23.07.2021

Allez Bel Abbes

Boubaker Lakehal

09.06.2021

Excellent

Bendraoua Abdelaziz

09.03.2021

Vous passez un grand bonjour à Mme Amel

J'adore la chaîne 3 elle m'accompagne tt les jours de cette façon je reste connecté à mon chère pays en plus de la belle musique ❤

Very good music, especially during the weekends. Best regards,

j'écoute la chaine 3, tous les matins de 7h jusqu'à 9h, et l'après-midi à partir de 14h.

j'adore la chaine 3 mais de grâce ne nous passez pas des chanteurs qui soutiennent le sionisme et israel, ne dites pas que c'est uniquement de la musique car même la culture est de la politique comme un Patrick Bruel et compagnie

J adore la chaîne 3 de gros bisous à toute l'équipe surtout Mehdi , mahrez, maamar debout. Ghania de Moncton nouveau Brunswick. Moulat el Messemen originaire AZAZGA.