Stand with Ukraine. Save peace in the world!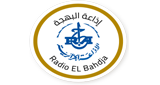 Radio Algerienne - El Bahdja
La Radio algérienne (officiellement : Entreprise nationale de radiodiffusion sonore, abrégée en ENRS) est une entreprise publique responsable du service public de la radiodiffusion pour l'Algérie. La Radio algérienne a été créée en 1986 lorsque son prédécesseur Radiodiffusion télévision algérienne (RTA) fondé en 1962, s'est séparé en deux entreprises distinctes, la télévision et la radiodiffusion.
Radio Algerienne - El Bahdja reviews
BAYNA

مشكورين

A very happy Radio station. I don't understand a thing but enjoy the music.

Sid ' Ahmed LAKHDAR

03.07.2021

SUPER RADIO !!! FELICITATIONS ET CONTINUEZ AINSI ! MERCI

تعجبني البهجة نسمعها دايما

aid nmoubarak said thyati likoum ahl algezayr kamlin men simpohamed men lmaroc lmaghreb ;bahha mohamed ; dima rana f ecoute des radio algeriennes ; ytwl omrkom nass elbahja kamlin haya men lmaghreb mouaaaaaahhhhh w awchirkouèm moubarika kamlin kamlin ; matakchibya cette chanson est marocaine mais bien chantee a lagerienne ;

2020 radio bahdja mono !

Salam. machalah pour cette radio a chaque fois que je j'écoute sa me rappelle mon enfance et j'espère que les gens reviennent au moins un peu à cette belle époque saha ftorkom de tlemcen

Amoula Chouchita

12.02.2020

je vous remercie tous l'èquipe de la radio el bahdja tooop bonne continuation

good radio station el badhja. I hear this station often Inshallah. Allah bless you brother. Allah Akbar. Amin