Stand with Ukraine. Save peace in the world!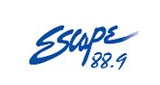 Escape 88.9
Escape 88.9 Santo Domingo escucha tus emisoras favoritas aqui, toda la radio dominicana en un solo lugar. Solo Música, Siempre Hits!
Escape 88.9 reviews
RAMON ANTONIO PEREZ GONZÁLEZ

31.05.2023

muy buena programacion

Muy bien, pero. estamos teniendo problemas con la programacion.

Rosa Margarita Beltre

15.06.2022

Me encanta, tengo más de 20 años escuchándola y no la cambio. Air suply siguen cantando juntos. Su voz continúa intacta , los vi en noviembre pasado y su concierto fue buenísimo, ls gente no quería irse.

Jessica Perez Uribe

02.10.2021

Como se llama la cancion que sonó antes que esta?

joel galiver garcia

12.02.2021

hola me pueden dar su whatssap 😊

Rafael Danilo Tejeda

31.03.2020

Estoy teniendo problema con la conexión,solo se escucha una sola cancion.....Ayuda. Gracias

Yoryijose De Jesus Ventura

08.03.2018

100% Super!!!

Como se llama la musica?