Stand with Ukraine. Save peace in the world!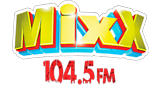 Mixx
Santo Domingo, 104.5 MHz FM
La emisora MixX transmite por los 104.5 Fm en Santo Domingo, las 24 horas del día y los siete días de la semana online con lo mejor de la música urbana, así como una variada programación. MixX es una de las estaciones dominicanas más joven, desde el 1 de enero del 2016, calando en el gusto del público con espacios que llevan una selección de los más sonados del género urbano a sus seguidores, en especial el reggaetón.