Stand with Ukraine. Save peace in the world!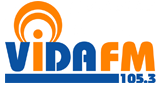 Vida 105.3 FM
Vida 105.3 fm busca de forma novedosa el desarrollo de su pueblo, adaptándose a la realidad que marca el futuro, cubriendo las necesidades y demandas inmediatas. Para esto, debemos alcanzar la capacidad de superar limitaciones; accediendo a los recursos económicos disponibles, tanto de donaciones como de publicidad, para gestionar y ejecutar los proyectos de ampliación y desarrollo que se traducen en beneficio de las comunidades. Nuestros oyentes y asociados están detrás de esta iniciativa, empujando, sumando todos sus esfuerzos para llegar pronto y bien al objetivo final.
Vida 105.3 FM reviews
Me gusta....les escucho vía internet desde LA HABANA!!!!

Digna Villaman

20.11.2022

I LIKE.

Que hermoso mensaje!!!

Guillermo Antonio Inoa sanchez

24.03.2022

Quiero que me ponga en oración para que me ayude nuestro señor a que me vendan la casa donde vivo lo necesito eh luchado mucho por eso

SOIS LO PEOR DE LA ESPECIE HUMANA UNIS HIJOS DE PERRA QUE SOLO VIVE DE SUS SEMEJANTES

Ivette Mahfoud

15.06.2020

Doy gracias a Dios por cada uno de ustedes y por su aporte a la obra de la extensión de su reino.

Francisca Parra Hernandez

20.03.2018

Buenos día me encanta la programación de Vida desde la 5 : 00 a.m.