Stand with Ukraine. Save peace in the world!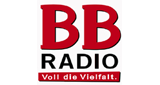 BB Radio
*BB RADIO* ist der Sender für Berlin/Brandenburg und garantiert ein abwechslungsreiches Musikprogramm!
Show more
Related radio stations
Show more
Information about the radio
BB Radio ist ein Vollprogramm mit Hot-Adult Contemporary-Inhalten und spielt aktuelle Stücke sowie Charterfolge der 1980er, 1990ern und 2000er. Der inhaltliche Schwerpunkt liegt auf Brandenburg. Für lokale Beiträge wird der Sender auf insgesamt mindestens sechs Frequenzen auseinandergeschaltet.

Reichweitenstärkste Sendung bei BB Radio ist die Morgensendung "Die BB RADIO Morgenshow - mit Alex Purrucker, Clara Himmel & Benni" mit Fokussierung auf die unterhaltsame Aufarbeitung tagesaktueller Themen. Des Weiteren werden Comedy-Serien wie "Die BB Radio Telefonfalle" und "Baumann und Clausen" sowie viertelstündlich Wetter und Verkehr ausgestrahlt. Die BB Radio Morgenshow ist montags bis freitags von 5 bis 10 Uhr auf Sendung.

Die lokale Berichterstattung aus den einzelnen Regionen Berlin und Brandenburgs ist ein weiterer Programmschwerpunkt. Die Nachrichten und viele Beiträge sind sechsfach regionalisiert, daneben existiert ein dichtes Netz an Reportern und Lokalredakteuren.
Radio contacts
Fax 0331 / 74 40 - 109