Stand with Ukraine. Save peace in the world!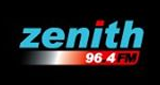 Zenith Fm
Zenith Fm is a broadcast radio station from Nicosia, Cyprus providing Parties, Salsa, Dance, Greek Hits and Christian music, Live shows, Information and Entertainment.
Zenith Fm reviews
Ανδρέας Παπανδρέου

29.11.2023

Kalimeres ekdromoula Stin kakopetria thermes agapes stin agapimenimas daskala Avramidou Maria !!

Panayiotis Kokkinos

06.10.2023

Αφιερωση προς τα τριαρια της ΣΜΥ το τραγουδι φεύγω σκαστος του Ευρου μας Καλημέρα στα τριαρια της σχολής μονίμων υπαξιωματικών και πολλα φιλιά

Μπορείτε να κανετε να στελνουμε απο viber σας παρακαλώ αν είναι δυνατόν

Andreanna Nikis

15.07.2023

Ρικο μου θέλω να πεις μια καλημέρα στον άντρα μου τον Σωκράτη που πάει σαλαμιου και ότι τον αγαπώ πολυ

Sotiroula Tsitsi

27.10.2022

kalhmera pourekka m! na dwseis ta Happy birthday mas ston Antwnh tou Ermis bakery st lemeso pou exei ta genethlia tou shmera to scorpaki mou apo thn agaphmenh tou nona Maroulou! kai na kopiasete na fame ta glyka mas kai thn souvla mas!

Ελένη Κιουρτσιδου

26.08.2022

Πάμε λίγο δυνατά Λουιζα μου χαιρετίσματα πολλά καλή Παρασκευή καλο και ξεφάντωμα μεγάλο όλο το ΣΚ

Χερετισματα που το ΦΥΛΑΚΙΟ ΔΕΝΕΙΑΣ

Πες στον τίτο μου οτι τον αγαπω!

E RIKO ISE O ADROPOSMOU MONON ANTHOUPOLH

Kyriakos Kyriakou

14.08.2021

Rikoo pame pegia gia tsakri kopkiasii..ta kopelia p tin dromolaxia larnaka..