Stand with Ukraine. Save peace in the world!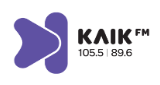 Klik FM
Nicosia, 89.6-105.5 MHz FM
Εκπέμπει σε όλη την ελεύθερη Κύπρο! Με ένα ιδιαίτερο μουσικό προφίλ που ξεχωρίζει, έχει καθιερωθεί ως ο Πρώτος Μουσικός Σταθμός που μεταδίδει κυρίως ελληνική μουσική, και προσεγγίζει με μεγάλη επιτυχία άτομα όλων των ηλικιακών ομάδων.
Klik FM reviews
Είστε υπέροχοι Vicky & Bo. Δεν θα έχανα με τίποτα τη συνέντευξη με τον Μέμο Μπεγνή . Η πρώτη φορά που τον είδα στην τηλεόραση ήταν στην σειρά που έπαιξε πριν από 10 χρόνια στην σειρά Πανσέληνος. Με έχει εντυπωσιάσει πολλές φορές κι εξακολουθεί να με εντυπωσιάζει, τον εκτιμώ και τον σέβομαι, είναι καταπληκτικός. Θέλω να του ευχηθώ καλή χρονιά, καλή επιτυχία στις θεατρικές παραστάσεις που θα παίξει και ελπίζω να τον ξαναδούμε σύντομα σε σειρά στην τηλεόραση.

Hello. i'm Paulo from São Paulo-Brasil. The best rádio in the world. Magic.

Christina Gewrgiou

05.07.2018

Eisaste iperoxi !!!!!