Stand with Ukraine. Save peace in the world!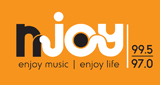 Njoy 99.5
Nicosia, 97.0-99.5 MHz FM
Ένα νέο, εκλεκτικό, φρέσκο ραδιόφωνο! Η πιο διαφορετική μουσική πλευρά της ζωής, είναι εδώ. Η μουσική μπορεί να σε χαλαρώσει ή να σε ξεσηκώσει, να σε διασκεδάσει αλλά και να σε βάλει στη διαδικασία να φιλοσοφήσεις τη ζωή σου. Νιώσε την πολυδιάστατη φύση της μουσικής και του ραδιοφώνου και ταξίδεψε, μάθε, γέλασε, διασκέδασε, αγάπησε, αλλά προπαντός ταξίδεψε σε κόσμους όπως η Pop, Funk, Jazz, Rock, Soul, Latin, Ambient, Electronic κ.ά. Φρέσκα τραγούδια ή από περασμένες δεκαετίες, 'πειραγμένες' διασκευές αλλά και ρεμίξ που ανακαλύψαμε για να φρεσκάρουμε τις αναμνήσεις. Όλα αυτά στον NJOY, ένα ραδιοφωνικό σταθμό που αγαπά τη μουσική, την αστική ζωή και τα λόγια που έχουν … λόγο!