Stand with Ukraine. Save peace in the world!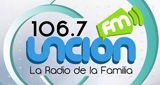 Radio Uncion 106.7 fm
Con la misión de ser "la Radio que te hace sentir la Presencia de Dios" es que nace Unción Radio 106.7 FM del dial en Costa Rica. Gracias a sus 9 torres de transmisión distribuidas en todo el país Unción vino a llenar de Palabra, oración y música a su audiencia. Con 7 tiempos de oración diarios hemos logrado unirnos bajo la ley del acuerdo con todo un país que se llena de fe para seguir adelante, creyendo que Dios hizo, hace y hará cosas grandes con su pueblo.
Radio Uncion 106.7 fm reviews
Gracias por ser una radio de BENDICION

Valerie Guevara

04.12.2021

muy buena

aleluya en sintonia amen

agradecido la escucho desde un CAI. Ahora estoy doblemente libre..

frank calderon

20.06.2020

no puedo mandar msj por whsap ayuda

Gloria a Dios! Nos unimos a las guerreras de Jehova en oracion desde Panama. Aleluya!!!!!

Bendiciones a todos apoyo en oración para la primera quimio de kristofer Dios tiene el control 🙌Dios es tu Doctor

Bendiciones. Vera Porras, escucho desde Raritan New Jersey por online.

Yamileth Padilla

06.02.2020

Hnos buenos días, no se esta escuchando la radio por Internet

Sanchez Arjona Manuel

18.12.2019

GRANDE EMISORA DEL SEÑOR PUESTA PARA CORRER SU PALABRA A TRAVES DE LAS ONDA Y TECNOLOGIA...AMEN...VUESTRO TRABAJO MIS AMADOS HNOS EN LA EMISORA ESTA SIENDO DE EDIFICACION Y GRAN BENDICION X SU VARIEDAD DE CONTENIDOS ,,, DESDE JEREZ DE LA FRONTERA ....ESPAÑA MANOLO SANCHEZ CRISTIANO ...HIJO DEL ALTISIMO Y ADORADOR A EL SEÑOR JESUS NUESTRO COMUN SALVADOR PERSONAL.AMEN...