Stand with Ukraine. Save peace in the world!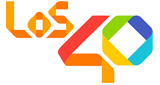 Los 40
Los 40 es una emisora que ofrece lo más actual y exitoso del momento, más variedad en su genero pop, programas, concursos, eventos y contenido.
Los 40 reviews
Cristian Alberto Rojas Quesada

11.10.2023

Porque hoy estan tirando tanto ruts desde la mañana creí qué esta emisora tenía más variedad de música todos los días de la semana

Silvia Gonzalez

05.08.2019

genial ponen buena música para alegrarse la vida.