Stand with Ukraine. Save peace in the world!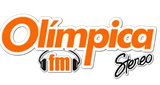 Olímpica Stereo
Olímpica Stereo 100.3, la emisora Mas Escuchada En Neiva, Huila y Sur de Colombia. Olímpica Stereo es una emisora de la Organización Radial Olímpica. Acompaña a sus oyentes todos los días con buena música, el mejor humor y muchos premios!
Show more
TOP songs on Olímpica Stereo
Olímpica Stereo reviews
Estefania Sánchez

18.09.2023

Hola buenos días disculpe ponga la música de Juan Carlos Zarabanda copa tras copa

En redes sociales cimpartiremos los videos para que lo hagamos viral! No jueguen con la gente! Mas seriedad

Andrea GALINDO CAMACHO

24.05.2023

Buenos Días para dejar un mensaje de felicitaciones de cumpleaños a Angelica Andrade de parte de sus compañeros de oficina de Professional

Yarithza mercedes "Yarimer"

11.02.2023

Yo escucho olimpica desde tesalia-huila

Yo escucho Olímpica Stereo me gustaria dicembre sin ti de los Bukis porfavor gracias

maria garcia grisales

20.11.2022

Apoyando a Ecuador vamos hermanos ecuatorianos 2-0 ganando Ecuador

Yo escucho olímpica esterio por que me pone y me da detodo!!!

hipolito velasquez

06.08.2022

muy buena programacion los felicitos sigan asi la # uno

Naranjo Yasmin

26.06.2022

👏👏👏👏♥️💃

Yeferson Peralta

18.04.2022

Yo escucho olímpica estéreo desde el municipio de Colombia Huila.
Information about the radio
Programación:

LUNES A VIERNES

• 03:00am a 05:00am
Ranchenatos Olímpica

• 05:00am a 10:00am
Temprano es más bacano

• 10:00am a 12:00pm
Olímpica te complace

• 12:00pm a 02:00pm
Vallenatos de oro

• 02:00pm a 04:00pm
Olímpica te complace

• 05:00pm a 09:00pm
Olímpica sin limite

• 09:00pm a 03:00am
La noche Olímpica


SÁBADOS

• 05:00am a 10:00am
Las bailables de siempre

• 10:00am a 12:00pm
Las 20 latinas

• 02:00pm a 04:00pm
Grandes especiales

• 02:00pm a 09:00pm
Gran fiesta Olímpica Stereo

• 09:00pm a 05:00am
La noche olímpica

DOMINGOS

• 05:00am a 10:00am
Ranchenatos

• 10:00am a 02:00pm
Bailables de siempre

• 02:00pm a 04:00pm
Gran fiesta Olímpica Stereo

• 05:00pm a 09:00pm
De regreso a casa

• 09:00pm a 03:00am
La noche Olímpica

• 03:00am a 05:00am
Ranchenatos
Radio contacts