Stand with Ukraine. Save peace in the world!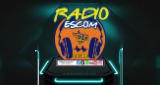 RADIOESCOM ONLINE
Con 16 años al aire, Radioescom es reconocida como una de las emisoras número 1 en Google, en Santiago de Cali, como la Mejor Emisora Online de género Crossover, además como parte de La Gran Alianza Internacional AIR RADIO y muchas mas.
Show more
On the air RADIOESCOM ONLINE
| | |
| --- | --- |
| Live | TOP 5 FABIOLA REYES - TOP 5 FABIOLA REYES |
| 13:09 | TOP 5 PATRICIA - TOP 5 PATRICIA |
| 12:50 | TOP-5-LINA-OK - TOP-5-LINA-OK |
RADIOESCOM ONLINE playlist
TOP songs on RADIOESCOM ONLINE
RADIOESCOM ONLINE reviews
Excelente programa, me gusta mucho la muchila popular, buena música con Ariel Urrego.

Edilberto Zuluaga Naranjo

09.04.2021

Excelente programación y los artistas sentimos el gran apoyo por parte de Fredy y Richard.

julian garcia muriel

13.02.2021

Que buena música!! Muy agradables los temas acorde a mi hora en España jajajaja, un saludo para Mi Rita, nunca la olvido.

Hola!!! Interesante el tema saludos a sugey de angi

Jose Rodriguez

12.02.2021

Excelente tema por parte de la conductora, te felicitó Sugey

Reciban un abrazo 🤗 desde Cali, la sucursal del Cielo

Sussy Martinez

27.11.2020

Excelente tema!! Se necesitan muchos programas como este, para apoyar a los emprendedores. Sugey eres la mejor, con mucho cariño: Sussy Mar :)

Cristobal Zapata

01.11.2020

Saludos para salome zapata la mas feita de Eliot

Adriana Corcho

09.10.2020

escuchandolos desde la ciudad mas bella CARTAGENA DE INDIAS buenisima la programacion...

Carlos Arturo Sanchez

27.09.2020

Muy bueno
Information about the radio
Los programas y espacios musicales que transmitimos están diseñados para cubrir las más variadas necesidades y gustos de nuestros oyentes a los que se tiene acceso a través de nuestra señal on-line. Nuestra programación está diseñada para que los oyentes tengan acceso a temas como salud, Farándula y entretenimiento, Deportes y cultura, entre otros.
Radio contacts