Stand with Ukraine. Save peace in the world!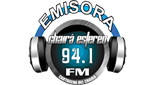 Chairá Estereo 94.1 FM
Cartagena del Chairá, 94.1 MHz FM
Somos Chairá Estereo, un medio radial para el fomento y desarrollo de los chairences y el departamento del Caquetá. Somos cultura, información,música, farandula, entretenimiento y más. Contamos con cobertura en todo el departamento con 5000kv de potencia. Cubriendo municipios como: Cartagena del chairá, El paujíl, El doncello, Puerto Rico, San Vicente, Florencia, Montañita, San Antonio de getuchá y toda la parte norte del departamento. Nuestro compromiso como medio radial es brindar lo mejor en pro de todas las comunidades.
Chairá Estereo 94.1 FM reviews
Asobotes Cartagena DEL Chaira

19.04.2023

QUE MUSICA MAS FEA, COMO PARA DORMIR.

Alejandra Grisales

28.08.2022

Buenos días Chaira estéreo un saludo para todos en la vereda la guna Verde me regalas la canción mi decisión de Sebastián ayala gracias fiel oyente desde santa Bárbara Morales cauca luz

Alfonso Osorio gomez

20.08.2022

Buenos días amigos de Chairá estereo los saludo desde Neiva huila vereda el triunfo un abrazo bendiciones de parte de Alfonso Osorio Gomez

Otoniel Villamil

28.06.2022

Buenos días chaira stereo grandioso sus programas los escucho todos los días agame un para pedirle un saludo a lliber escue y su esposa y para decirle que me encuentro en el pueblo

Hola Cartagena del chaira un fuerte saludo para mí familia de peñas coloradas

Jhon Wilber Tobar

12.02.2022

A saludos, siempre e sido fans de esta emisora. Desde San Vicente del Caguán Caquetá.

Hola saludos desde Medellín Para mi familia Vargas Sanchez en especial a mi mamá Doris Vargas de su hija que la quiero muchísimo la extraño..Bendiciones para ustedes por su buen trabajo 😊extraño mi pueblo siempre sintonizada con chaira estereo la mejor 👍

sebasbrs Troches

15.09.2021

Hola por favor para pasar un saludo para la familia Gómez Muñoz, especial mente a Samuel Gómez y luz dari de parte de Norfel rivera y yaniber rivera desde cali valle del cauca gracias

Alejandra Molano

29.07.2021

Buenos días para saludar a mi abuelita maria pancho en la vereda la paz N 2 que la quiero mucho con la canción los caminos de la vida ....

🎹La vida es corta🎼hablen rapido🎺
Radio contacts
Area Comercial: 3204356649 el contacto directo para clientes y personas en general que desean anunciar con nosotros.