Stand with Ukraine. Save peace in the world!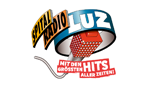 Spitalradio LuZ
Spitalradio LuZ sendet für das Luzerner Kantonsspital ein 24h-Programm. Viermal wöchentlich ist ein Moderator live im Studio im Luzerner Kantonsspital. Jung oder etwas älter. Da ist für jeden etwas dabei. Ausserhalb der live moderierten Sendungen ist ein Nonstop-Musikprogramm zu hören. Ein Mix aus über 5'000 Musikhits.
Show more
TOP songs on Spitalradio LuZ
Spitalradio LuZ reviews
Hoi Mathias, machsch es super; en Fan us Zürri

Toller Sendeplan - sehr unterhaltsam - viel Erfolg weiterhin

Aaron Zimmermann

09.01.2020

Super Radiosender! Sympathische stimme und tolle unterhaltung

Bella Giulia, schöne Stimme... STAR 🌟

gut.machen.wäider.so

Renate Schadow

01.08.2018

Eine super Idee,dieses Radio...ich wünsche weiterhin viel Erfolg und Spass mit toller Musik und herzlichen Moderatoren !! Liebe Grüsse aus Berlin

Tolle Musik ,toller Sender,macht weiter so !Liebe Grüße aus Mecklenburg/Vorpommern

Jochen H. Fischer

26.12.2017

Liebe Radiomacher, nochmals herzlichen Dank für den Gewinn der Migrosgeschenkkarte vom 24.12. beim Schnellratequiz mit Freudiger Jürg. Gruss aus Luzern und weiter so. Jochen H.

Sandra Stöckli

19.12.2017

Tolle Unerhaltung und symphatische Stimmen.

Der Sender mit der grossen Abwechslung!
Information about the radio
Das erste Mal auf Sendung ging Spitalradio LuZ an Weihnachten im Jahr 1990. Ein paar unentwegte Jugendliche stellten in der Rekordzeit von nur 2 Monaten einen 10-tägigen Versuchsbetrieb im Kantonsspital auf die Beine. Was damals als Versuch startete, wurde bald zum Dauerbetrieb. Spitalradio LuZ wurde im November 1991 als Verein gegründet mit dem Ziel, jeden Sonntag von 17 bis 20 Uhr den Patienten des Luzerner Kantonsspitals Luzern ein selber produziertes Programm zu präsentieren.

Inzwischen ist der Sendebetrieb auf mehrere Tage pro Woche ausgedehnt worden und es beteiligen sich rund 15 Aktivmitglieder am regulären Wochenprogramm. Das Festtagsprogramm ist geblieben und ist der Höhepunkt eines jeden Radiojahres.
Radio contacts