Stand with Ukraine. Save peace in the world!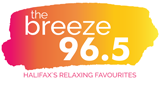 96.5 The Breeze
CKUL-FM (96.5 FM, 96.5 The Breeze) is a radio station serving Halifax, Nova Scotia. Owned by Stingray Group, it broadcasts a soft adult contemporary format.
96.5 The Breeze reviews
Fredericton N.B. IS LISTENING HALIFAX!! A LOT OF THESE HITS CAN,T FIND ON REWIND STATIONS OR CHNS...THANK YOU...LOOKING FOR YOUR PLAYLIST...

Georgina Parker

03.08.2021

Love this station

Bruce Ferguson

19.08.2020

I am listening from Quebec since I cannot find such a nice station around here. With all the news that is, these days, having your tunes filling my house just settle me right down. Thank you 96.5 The Breeze Halifax. Much appreciated!!!

the best radio ever please keep up the good work! thank you for awesome music!

Michael Hackett

10.07.2019

I truly enjoy your selection of music but I think there was more than the 2 dozen songs you play over and over and over and over again. There is not much MOTOWN or country coming my way.

Charlot Morgan

24.01.2019

Really, really enjoying the music on 96.5 The Breeze, not once this week did I turn off the radio because of headache causing, get on my last nerve music!! Thanks bunches.