Stand with Ukraine. Save peace in the world!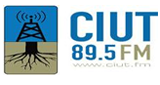 CIUT FM
CIUT 89.5 FM is Toronto's preeminent, listener-supported presenter of leading-edge music and spoken-word programming since 1966.
Show more
CIUT FM reviews
José Leitão De Melo

24.08.2023

Bravo Mr. Richard! Just sticked ears, live. Standing here with you! Congrats from Portugal. Thanks a lot for such great music! You're awesome! 🤟🙏

Just stumbled across your station and couldn't stop listening! This sounds crazy but I didn't have my phone in the car and I heard a song around 1:30am Nov 14th that I really liked but couldn't Shazaam it. A lyric from song was "you created who your are, you're not to blame" any idea what song this was? Thanks and looking forward to listening more.

Great set this afternoon. Just what I needed!

Yes, Drill Squad! Thank you for playing the classics!

Chelsea Curran

28.03.2022

Best radio station. Sunday evenings are 💣

The Drill Squad Mix Show. The best show to here actual local hip hop talent and a show providing a smooth mix or R&B, jazz and Reggae. Playing classics and classics in the making.

Denise Burnett

14.02.2021

Reggae at its finest

machinewrecker

19.01.2021

Miss a lot of the old programs - Caffeine Free, The Well Street Journal, Siesta... Judy Kosh was great too.

Linda Rees Middleton

18.09.2020

Well done Mr. Pete, great to hear your voice on the radio this morning!

Listening to the electronic music on Thursday, August 13th. The host and the set list are dynamite!
Information about the radio
CIUT-FM is a campus and community radio station owned and operated by the University of Toronto. The station broadcasts live and continuously from Toronto on the 89.5 FM frequency. Programming can also be heard nationally via channel 826 on Shaw Direct, and over the internet via the CIUT website. The station is financially supported by donations and an undergraduate student levy. CIUT-FM also broadcasts a Punjabi and Urdu language station, Sur Sagar Radio on a Subsidiary Communications Multiplex Operation frequency.

CIUT's studios are located on Tower Road on the University of Toronto campus, while its transmitter is located atop First Canadian Place in Toronto's Financial District.
Radio contacts
https://www.instagram.com/ciutfm/