Stand with Ukraine. Save peace in the world!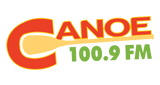 Canoe 100.9 FM
Canoe FM is a Not-For-Profit, Community Radio Station servicing the beautiful Haliburton Highlands of Ontario. Operated by the Haliburton County Community Radio Association CKHA. We have over 110 Volunteers who run the station.
Show more
TOP songs on Canoe 100.9 FM
Canoe 100.9 FM reviews
I live in Whitby, Cottage in Carnarvon, BUT listen to Canoe online whenever I am able. This is a FANTASTIC Radio Station!! And run by volunteers!! The background research this folk prepare and present to us "the audience" is better than any Commercial Station. Keep up with your "fresh approaches".. Thankyou

Great Tunes my brother as usual keep on going you do a fantastic JOB.

Karen Borthick

30.12.2020

Thanks Pat for playing Shattered Roads by our group, The Movers & Shakers tonight !! You're the best! Glad you are working on a Blues Society !!

Always great Blues Tunes Tuesday evenings with Cousin Pat! Thanks, for the great tunes! Keep em coming.

Karen Borthick

09.09.2020

Love your show Pat your show is the best!!!

Beverley Boudreau

03.06.2020

Great music Pat

Miriam Bartley

31.03.2020

Great songs this afternoon. I love that you chose songs from the '50's and 60's. I'm cleaning to the vintage vibes.

I love the music you play on Saturday
Information about the radio
As the "Voice of the Haliburton Highlands" our product is radio entertainment and our service is supporting our community and its members by contributing to the culture of the community, providing educational and volunteer opportunities, sharing information and supporting the hundreds of events that happen in Haliburton County every year.

Our Programming is designed for full time, part-time and seasonal residents of Haliburton Highlands. Our CRTC mandate requires we have content that spans a vast majority of the music genres (jazz, classical, blues, folk, pop, country, gospel, rock) balancing music with talk and information exchange while at the same time providing a stage for Canadian artists and their music. We have
If you are interested in volunteering at the station, we would love to talk with you.
Radio contacts
Fax: +1 705-457-9522