Stand with Ukraine. Save peace in the world!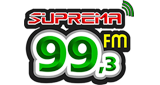 Rádio Suprema FM 99.3
Essa Rádio é Uma Benção! Localizada em Cacoal, na zona leste de Rondônia, a Rádio Suprema é uma estação de rádio que se insere no segmento gospel. Sua promação musical e informativa vai no sentido da educação, sensibilização e evangelização.
Rádio Suprema FM 99.3 reviews
boa de tal maneira

Realmente essa rádio é uma benção!!!

Alessandro Marcos

17.06.2020

100% de Benção

Jose de Oliveira

02.06.2020

Excelente 100 %

Everaldo De Lima Barbosa

27.05.2020

Excelente. Assisto todos os dias.

Flavia Cristina Souza Leal

15.05.2020

Uma bênção

Elisangela Persch

23.03.2020

Vcs são uma bênção....

Jociele Bernardino

23.01.2020

Super amo ouvir ,ouço todos os dias é uma benca na minha vida

Aparecidagomes Schuambach

05.01.2020

Uma benção este culto

Muito boa!
Radio contacts
Email: [email protected]
https://www.instagram.com/radiosupremacacoal/
https://www.youtube.com/channel/UCQDFh89HHujoBjtEpkyMy_Q