Stand with Ukraine. Save peace in the world!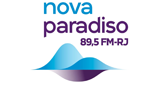 Paradiso Rio FM
Rio de Janeiro, 95.7 MHz FM
Paradiso Rio FM 95.7 - Nossa Mistura é Diferente! A rádio que marca o encontro do bom gosto com o bom clima. Da qualidade musical com a qualidade de vida. Da música com a informação. Das dicas dos nossos colunistas com as dicas de trânsito e saúde. No mesmo dial, na mesma sintonia fina que conquistou o ouvido e o coração dos cariocas.
Paradiso Rio FM reviews
lindomar farias

23.10.2022

Uma merda nao falam os nomes das musicas nem dos cantores / cantoras é quase impossível encontra a música depois !

Franciane Teixeira

24.03.2022

Eu gosto muito de ouvir essa rádio

onde eu vejo a player list dos últimos 7 dias na rádio SulAmérica Paradiso obrigado !

Helio Rodrigues Rodrigues

21.06.2021

Otima para quem gosta de boas musicas!!

Jôka Prochownik

09.05.2021

Adoro! Parabéns pelo bom gosto! 👍

Muito boa

Sua programação é boa esse horário de sábado com essa programação de flach back é show.

Dirson De Oliveira

10.07.2020

excelente

Josoel Rodrigues

14.05.2020

Show!

aldemar ferreira da siva

14.09.2019

muito boa mais em vez quando sai do ar