Stand with Ukraine. Save peace in the world!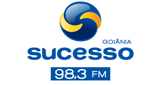 Rádio Sucesso
A Rádio Sucesso FM – 98,3, foi criada em 14 de Julho de 2003 na cidade de Goiânia, Estado de Goiás, através do seu Diretor Presidente GILSON ALMEIDA e seu principal objetivo é levar a seus ouvintes uma programação de qualidade, pautando pela ética e responsabilidade, com muita música, entretenimento e um jornalismo imparcial, que atua em prol das comunidades não só da Capital, mas como também de outros municípios. Atualmente contamos com mais de 30 profissionais, entre funcionários e colaboradores.
Show more
Information about the radio
A Sucesso segue o perfil de nossa região, sendo uma rádio popular sertaneja, com um jornalismo forte e atuante, que atinge pessoas das mais variadas classes sociais e faixas etárias, se consolidando como uma emissora eclética e tendo uma penetração forte nos municípios vizinhos num raio de 100 quilômetros.
Radio contacts