Stand with Ukraine. Save peace in the world!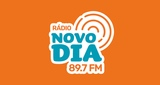 Novo Dia FM
A Rádio NOVO DIA FM é uma emissora que abre espaço para todas as gravadoras e igrejas cristãs, apresentando o que há de melhor na música GOSPEL no Brasil, atendendo essa população que, normalmente buscam uma programação relacionada ao EVANGELHO.
Novo Dia FM reviews
Marilis Davanso

21.04.2020

Oi amados. A novo dia tá fora do ar hoje?

Daiane Machado Lopes

30.03.2020

Estar maravilhoso amo está com vc agora pela pela amanhã nós ensinado a nós cuidar com remédios natural amei vc tem o be fit pra vender ?

Gostei muito

Alexandre Robin

28.10.2019

Canal de bênçãos a todos que a paz de Deus estejas com todo vós Deus abençoe

Essa radio é uma benção,Deus abençoe a todos.

Jaqueline Avelar Souza

31.07.2019

Meu nome é Jaqueline eu sou daqui de Taruma-SP ouço vcs todos os dias pelo radio A paz do Senhor Jesus

é uma rádio abensoada

Érika Stephanie

01.04.2019

Muito boa, abençoando nossos dias!