Stand with Ukraine. Save peace in the world!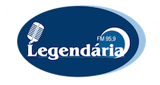 Rádio Legendária
Rádio Legendária, Lapa, Parana, Brazil. 5,5 mil curtidas. FM 95,9.
Rádio Legendária reviews
Rádio com programação bem definida e com canções que agrada a todos os públicos! Parabéns principalmente pelo trabalho de evangelização!

João Batista Fontanezi Moraes

27.07.2022

Nesta emissora, o que nos passa é a desconfiança com o que o noticiário da manhã,que nos apresenta.

Boa tarde sou ivacir ai da lapa mas estou em viagem em araguari minas gerais

Essa rádio é nota 10 ! Meu nome é Juliano gostaria de elogiar o trabalho deste locutor que é acima da média ! Ele faz a gente retornar no tempo . Eu lembro dos bons tempos do Fucks e o studio mil ! Tempo maravilhoso !

Antonio Martinhuk

03.12.2020

Para mim perfeita

Cleomir Oliveira

15.11.2020

Muita credibilidade na divulgação das informações e notícias.

Programação exelente!!!!

Reinaldo Fernandes

09.08.2020

Maravilhosa!!!

Maria lucia Cunha da silva

10.04.2020

Está mudo faz dias, fora isso é excelente.

Rodrigo Pscheidt

14.03.2020

Olá sou Dj Rodrigo Pscheidt de soa bento do sul, sem duvidas uma das melhores programacoes ouvi.