Stand with Ukraine. Save peace in the world!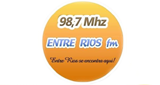 Rádio Entre Rios FM
Entre Rios de Minas, 98.7 MHz FM
Sintonize 98,7 Mhz - Entre Rios se encontra aqui! Rádio Comunitária transmitindo direto de Entre Rios de Minas/MG.
Show more
Rádio Entre Rios FM reviews
Excelente
Information about the radio
Em Assembléia Geral da Associação Comunitária Cultural de Comunicação de Entre Rios de Minas, realizada em 04/07/2017 aconteceu a eleição para nova diretoria. A chapa de renovação "Ligados na 98 FM" saiu vencedora. O presidente eleito da nova diretoria José Antônio, conhecido como Zezé Fox, agradeceu a todos pela confiança depositada a ele e disse que não vai medir esforços para colocar a Entre Rios fm para desempenhar seu devido papel na cidade de Entre Rios de Minas. A Rádio existe há mais de 8 anos e tinha como presidente José Paulo Azevedo. Com planos ambiciosos, em colocar a Rádio transmitindo via internet, a emissora poderá ser ouvida em todo o mundo através de site, aplicativo e facebook. Serão buscados recursos financeiros junto aos comércios da cidade, através de apoio cultural. A Entre Rios fm espera contar com o apoio de toda a população e comércios da cidade. A emissora está sendo reformulada e em breve terá nova programação e um site totalmente interativo!
Radio contacts