Stand with Ukraine. Save peace in the world!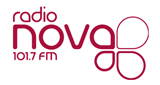 Radio Nova
Радио NOVA е първото и единствено радио, излъчващо най-добрата и актуална селекция от музика и предавания в областта на електронната култура. Радио NOVA звучи в София на 101.7 MHz от 2004 г. Първоначално, концепцията на радиото е фокусирана в областта на house, chillout и lounge музиката. Звученето на NOVA е обогатено с progressive, tech house и еlectro house.
Radio Nova reviews
Misho Lefterov

27.01.2023

Radio Nova feels exhiliirating. It just hits different.

ако може и да пише кои песни са звучали по рано ще ше да още по добре

Tatyana Georgieva

05.11.2022

Много добро радио за електронна музика.

Teodora Bratoeva

20.08.2022

Radio Nova I Love Sofia 101.7 FM

Много сте добри, супер парчета Браво!

Pi Ely Djanet Ely

16.11.2020

Yeah

Николай Бургов

10.01.2020

Най-яката музика слушаме по ; Radio Nova;!

Imádom!