Stand with Ukraine. Save peace in the world!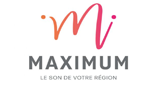 Maximum FM
MAXIMUM est votre nouvelle radio FM dans la province de Liège, Couvrir l'ensemble du territoire provincial, Hannut à Welkenraedt, via Ware, Huy, Liège, Verviers et toutes les autres municipalités de la région, il offre 24 heures sur 24 un programme prioritaire don dynamique et variée la musique et de détente.
Maximum FM reviews
Stéphan Herold

23.09.2022

Top radio très éclectique, je suis particulièrement fan de l'émission Le Mix De Mika

Jean-François Longton

08.03.2022

J'adore. Radio régional de la province de Liège.

Chouette radio, dommage qu'elle ne fonctionne qu'avec une petite dizaine de titres... Angèle et Julien Doré dix fois par jour, avec un seul titre chacun (Bruxelles je t'aime et Larme fatale), c'est assez gonflant. Le dernier Stromae quinze fois avec son suicide abrégé... Vous avez au minimum deux siècles de musiques différentes, variez un peu et vous serez parfaits. ;)

Jocelyne Charlier

05.11.2017

Désolée, apparemment les deux expressions se disent !
Radio contacts
www.instagram.com/maximumfmliege/
www.snapchat.com/add/maximumfm