Stand with Ukraine. Save peace in the world!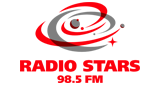 Radio Stars FM & DAB+
Radio Stars, appréciez la différence ! La radio associative d'Havré (Belgique) de la région Montoise qui émet sur 98.50 FM depuis juillet 1981, sur le DAB+ et sur le web. Écoutez-nous où que vous soyez dans le monde.
On the air Radio Stars FM & DAB+
| | |
| --- | --- |
| Live | PPR 09 - (FREE) Radio Imaging Sound Effects |
| 13:00 | Brocante Harmignies 25 juin 2023 - Brocante Harmignies 25 juin 2023 |
| 12:59 | RADIO STAR - MINI MIX #6 |
Radio Stars FM & DAB+ playlist
TOP songs on Radio Stars FM & DAB+
Radio Stars FM & DAB+ reviews
Patricia Dujardin

30.06.2022

J'adore !!

tres belle radio music variee ces top une radio convivial

delplanche isabelle

13.04.2022

Chanson plus ancienne c est top j adore

Frédéric Chevalier

27.11.2021

Programmation au top musique variée

nathalie ulens

27.11.2021

bonne émission ma belle, bisous

Françoise Séverin

18.09.2021

C'est un grand plaisir de retrouver Perline et Dominique Yves, un beau moment de radio !

Musique nostalgique nous faisant pense à nos années de gloire 70/80/90 où nous pouvions danser tous les w-e dans les dancings de la région jusqu'à l'aube sans avoir peur d'être contrôlé à la sortie. Merci pour ces bons souvenirs

Salvatore Casa

11.04.2021

🐈

Miralack Miralack

21.02.2021

le top merci radio stard

Moietmonfils Lottus

09.05.2020

super radio musique extra