Stand with Ukraine. Save peace in the world!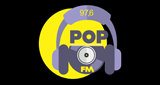 POP FM
Pronađi ritam kakav si oduvijek želio i samo pojačaj!!!
Show more
POP FM reviews
Andeljica Milaos

13.11.2021

jel moze čarolija - barbi afrika? HVALA

Ich liebe diesen Sender. Tolle Musik und Info zu allem.
Information about the radio
Pop FM je najmlađa radio stanica u banjalučkom eteru nastala kao rezultat detaljnog ispitivanja tržišta, i u svakom programskom segmentu jedinstvena kako u Banjoj Luci tako i na ovim prostorima.

U našem programu moguće je čuti najnovije pop i pop-folk hitove sa prostora bivše Jugoslavije, te informacije korisne u svakodnevnom životu. Pop FM je tvoj omiljeni sagovornik uz prvu jutarnju kafu, desna ruka za što uspješniji kraj radnog dana, tvoj najvjerniji suvozač u gradskim gužvama i vodič za najbolji provod, ukratko tvoj najbolji prijatelj u svakoj prilici.

Pop FM je u neprestanom kontaktu sa svojim slušaocima i muziku i teme o kojima se razgovara u našem programu pažljivo smo zajedno birali.

Pop FM je radio na čiju frekvenciju ćeš podesiti svoj radio prijemnik i zaboraviti na dugme za promjenu frekvencije, radio koji ćeš preporučiti svojim prijateljima i uz koji ćete zajedno provesti nezaboravne trenutke.

Naša misija, cilj i svrha je pružiti prvoklasnu zabavu i zadovoljstvo i informaciju iz prve ruke našem slušaocu, na svakom mjestu, u svakom trenutku i u svakoj prilici a rezultati koje smo za relativno kratko vrijeme postigli idu u prilog tome. Pop FM je najmlađi najslušaniji radio u najvećem gradu u Republici Srpskoj.

Pop FM program emituje 24 sata dnevno na frekvenciji 97,6 MHz na teritoriji Grada Banja Luka, te dijelovima opština Čelinac, Kotor Varoš u stereo tehnici sa RDS-om.
Radio contacts