Stand with Ukraine. Save peace in the world!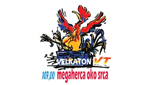 Velkaton
Velika Kladuša, 107.0 MHz FM
Radio Velkaton is a broadcast radio station in Velika Kladusa, Bosnia and Herzegovina, providing Bosnian Pop and Rock music.
Velkaton reviews
Nezvanom gostu mijesto na mostu Pa sta pricas gluposti od kuda si ti dosao

Arnes Dzakulic

18.02.2023

najbolji bio i osto zauvijek pozz

najbolji radio u pola dva

Wolfgang Mueller

18.10.2020

Gefällt mir sehr gut

Hvala na dobroj muzici I ako moze Jedna rodzendanska zelja da pustite sutra 23-09-20 mom muzu Abdi Osmankic od supruge Aide I kcerki alme,amre I ajle iz cikaga.Puno pozz I hvala

za pet

Dzevad Kajtazovic

28.04.2020

👍

5

Nedzad Coralic

23.02.2020

Pozdrav raja samo naprijed svaka čast

Ramiza Whitmore

14.02.2020

Pozdrav slusateljima Velkatona i Kladuskoj raji kao i majstorima iz studia, iz hladne Engleske/Derby.