Stand with Ukraine. Save peace in the world!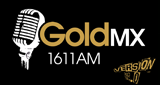 Gold MX
Gold MX is Albany's only true local radio station, GoldMX has a focus on supporting local musicians and the local live music scene.
Gold MX reviews
That interview with Matty Coull was pretty interesting, where has he been hiding, great song, great voice, look forward to hearing more

LOVIT Ang...Good mornin my dear friend

Jessica Howell

04.02.2023

Great, i love Gold Mx, great shows, great music, and an amazing amount of local music with a large amount of play time. thank you

Just have to say to say the song you played today on saving our scene, that was written and performed by Clay, Tress and Daemon, was just pure class. I really loved listening to all the artists, there is so much talent in Albany. All I can say is thank you all involved in this wonderful project, Sam GMX, Scotty, Sam KTR and GOLD MX in making this happen for the artist <3

Love what I hear,thank you for the Howlin Wolf Music also <3 it,need to get a better Radio lol xx

Fantastic music always enjoy listening to this station from the music to the news and everything else you have happening

Why Oh Why have you got that idiot back on air. Playing sooo dreary music in the mornings and afternoon, when it should be happy and cheerful.

The Christmas program is absolutely awful. Are you drunk?

Love your music.Listen every day from Boksburg, South Africa.

Music the way it should be, listening from Northern Alberta Canada. Great station with great music that's all that need to be said.