Stand with Ukraine. Save peace in the world!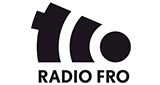 Radio FRO
Radio FRO ist freies Radio von Menschen für Menschen, in einer Vielfalt an Formaten, Kulturen, Generationen und Sprachen. Als freier Umschlagplatz für Information, Musik, Radiokunst und Experiment im Äther, im Kabel und im World Wide Web stehen die Redaktions- und Studioräume von Radio FRO engagierten Menschen, Initiativen und Organisationen offen.
Show more
Information about the radio
Radio FRO ist dein Entwicklungsraum für persönliche Experimente und neue Kommunikationsformen. Hier kannst du deine Vision von einem Radioprogramm in Worte und Musik fassen. Egal welche Vorstellung du von Radio hast, hier findest du deinen Sendeplatz. Und dein Publikum zu verschiedenen Themen: Politik, Bildung, Kunst, Kultur, Soziales, Unterhaltung, Generationen, Frauen, Umwelt, Gesundheit und vieles mehr.
Radio contacts
Studiotelefon: +43 732 71 72 77 - 130
https://www.instagram.com/radiofro/
Time in Linz: ,