Stand with Ukraine. Save peace in the world!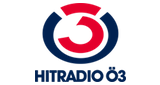 Hitradio Ö3
Das meistgehörte Radio Österreichs ist DAS Info- und Serviceradio mit dem besten Musikmix. Als einzige Radioredaktion des Landes werden auf Ö3 rund um die Uhr aktuelle Newsupdates gesendet. Dazu kommen aktuelle Nachrichten aus Pop, Society und die Top-Storys aus dem Ö3-Wecker.
Show more
On the air Hitradio Ö3
| | |
| --- | --- |
| Live | HITRADIO Ö3 - Livestream |
| 09:03 | Alle Farben feat. Flynn - I Need to Know |
| 09:02 | HITRADIO Ö3 - Livestream |
Hitradio Ö3 playlist
Hitradio Ö3 reviews
Ok

immer der gleiche Mist. Auch die Propaganda ist zum Kotzen

Michael Loecker

13.01.2022

Hey Landsleute,

sigi schmidhuber

01.11.2021

Viel zu viel Wiederholungen

Shon!

Endlich heute traumhaft die Sendung und hoffe das die Italienische Musik laufend gespielt wird und nicht nur Eros oder Zucchero. So wie früher auch immer gespielt worden

Marvin Santeler

01.05.2021

Kronehit ist viel besser!

da wir in ungarn sind und in der schweitz ist das eine gute sache

Harald Gärtner

25.01.2021

leider habe ich auch das gefühl das sich die Songs immer wiederholen! Speziell Pizzera&Jaus, Seiler&Speer bleiben einem bei fast 10x am Tag in Erinnerung. wogegen z.B. Neuvorstellungen von Musikgrößen wie Paul McCartney oder Barry Gibb nicht unterkommen. und redet euch nicht auf Wünsche aus!

Richard Kiraly

17.12.2020

🤍💯👌👍
Information about the radio
Ein weiterer Schwerpunkt des Senders ist Service, v.a. Wetter- und Verkehrsnachrichten. Auch Social-Campaigns (Ö3-Wundertüte, Ö3-Weihnachtswunder, Ö3-Kummernummer) haben einen zentralen Platz im Ö3-Programm.
Radio contacts
0800 600 600: Rund um die Uhr der Draht ins Ö3-Studio und von 7:00 bis 19:00 Uhr die Nummer für deine Fragen und Feedback (kostenlos aus ganz Österreich)