Stand with Ukraine. Save peace in the world!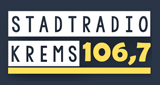 Stadtradio Krems
Das Stadtradio Krems ist das Regionalradio für Krems und Umgebung. Hier finden Sie aktuelle Nachrichten und Hintergrundberichte aus der Region.
Stadtradio Krems reviews
Wir sind von der abwechslungsreichen Musik begeistert. Da ist für jeden was dabei. Im Autoradio höre ich Sie im Bezirk Horn auf UKW!

Gabriel Lehner

14.01.2023

Kleines nettes Lokalradio mit ausgesprochen guter Musik.

josef mahlknecht

29.12.2022

auch jetzt in horn einwandfrei zu empfangen. danke für die gute musik aus meiner jugendzeit. hört man fast nirgendwo mehr außer beim kremser radio. bleibt so und guten rutsch und glück auf im jahr 2023. josef

Johann Schrefl

02.09.2022

Im Moment eigentlich musikalisch der beste Sender in Österreich für richtige Radiohörer, die auch noch hinhören. Spitze! Macht so weiter. Lg Hans

Guten Morgen, und schönen Sonntag wünsche ich euch!

Hallo aus Rohrendorf bin ein begeisterter Hörer zuhause und im Auto --- nur in der Garage wo ich bastle hat die Alexa keinen empfang zu euch --wann kommt das ????

Bernd Anduleit

09.04.2022

Tolle Musikmischung. Einfach so weitermachen, gerne auch ein paar Oldies mehr. Bitte auch vermehrt ABBA senden.

TOP!

meiner meinung nach sollte es in Österreich wieder viel mehr von Lokalradios und Regionalradio geben mit Bezug auf eine Region. Das Stadtradio macht es eh vor wie es geht. Denn diese ganzen Hitdudler und die mehr Abwechslungs Dudler kann man schon nicht mehr anhören.

Top Sender für Krems. Regional und gute Musik.