Stand with Ukraine. Save peace in the world!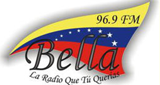 Bella 96.9 FM
Emisora que apoya al 100% a los artistas y cantautores originarios de Venezuela, que combina programas musicales con una variedad de shows deportivos, culturales, proyección hacia la comunidad, información y noticias.
Show more
Bella 96.9 FM reviews
Alexis Mogollon

22.04.2023

HOLA ESTIMADO Y GRAN HERMANO, SALUDOS DESDE BARQUISIMETO, DE PARTE DEL LICENCIADO ALEXIS MOGOLLON, QUE DIOS SIGA BENDICIENDO A TU FAMILIA.

Melky olvey Castillo

08.09.2022

Saludos jj y chuito . Y a mí familia desde Perú

Carlos Guevara

06.08.2022

Saludos desde Brazil, Rio Grande del Sur, éxito. Viva venezuela.

Saludos desde Colombia Barranquilla abrazos

Que hermoso escucharlo... Bendiciónes desde Lima🙏🏻

Saludos desde Trinidad y Tobago para mi gente de Buena Vista y Anaco

Carolina Caldera

31.12.2021

Feliz año nuevo para la familia Caldera Gómez en la calle 23 de enero, les desea Carolina desde Perú. Bendiciones para mi pueblo anaco.

Manuel Narváez Ortiz

26.12.2021

Saludos desde Santiago de Chile... De Venezuela para el mundo 🌎

Hola chuito desde Colombia escuchando tu programa somos de Anaco por fa mándale un saludo a mi papá José Aguilar y a mi mamá nohemy Sabino en Anaco gracias hno

Saludos Hermano desde Venezuela. Agradecido por esta oportunidad, que le dan a los nuevos interpretes de la musica nacional, @lopezkingmusica Bella 96.9 FM Demostrando que primero lo nuestro.
Information about the radio
100% apoyando nuestro talento nacional EN TODOS SUS GENEROS,resaltando nuestra cultura,idiosincracia,folklore,nuestros artistas,nuestros deportistas,nuestras comunidades,informando,educando y entreteniendo a nuestros usuarios y usuarias como se lo merecen,haciendo radio de verdad y agradable para todos y todas;sean rojos,blancos,negros y de la creencia religiosa que fueran.
Radio contacts