Stand with Ukraine. Save peace in the world!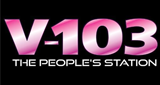 V-103 (WVEE)
WVEE is an award-winning radio station in the United States. It is licensed to Atlanta, Georgia and serves Metro Atlanta area. WVEE is the callsign of this station; its brand name is V-103 and the majority of people know it by its brand name. V-103 radio station is owned by CBS Radio and airs mostly soul, hip-hop, R&B and gospel.
Show more
V-103 (WVEE) reviews
I was surprised this morning the station decided to air false,fear tactic advisement declaring untrue messages concerning President Biden mandating medicine that harm children to be opposite sex. When did the station become thristy for funds to offset Integrity and truth..Shame on 103.3.

Tremaine Dupree

27.09.2022

Everybody has been texting me and woke me out of my sleep saying y'all clowning my home town!!! Willacoochee….. what was said??????🤣

Christopher Mckeehan

09.11.2020

I KNOW I LOVE BIG TIGGER ONLY ATLANTA GA KNOXVILLE TN I LOVE THE KENNY BURNS SHOW BUTTER THAN WJBE UNCLE STEVE HARVEY SHOW I KNOW WHEN YOU WAKING UP HG HURLEY THE STEVE HARVEY MORNING SHOW I LOVE V-103 THERE COLOR I,M LOVE TRYING RAMONE ONLY FRIDAYS IN ATLANTA THE PEOPLES STATION

cloverlove. parks

21.01.2018

This has been one of my favorite radio stations since it started and Larry Tinsley he is great you can just hear God speaking from him.

The best Hip-Hop station in the US! Respect!
Information about the radio
WVEE was launched in 1940s and started with country music. Since then it changed its callsigns, formats and frequencies several times. Now it is available on 103.3 MHz FM frequencies, on HD radio and online. V-103 FM radio station has the format of urban contemporary radio. On HD they have 3 channels. HD1 channel is dedicated to urban contemporary, HD2 channel is focused on Urban AC music and on HD3 channel you can enjoy urban talk. On our website you can find their live stream and listen to V-103 online. It is useful when you have problems with receiving it on FM or if it is completely unavailable on FM in your region.
Radio contacts