Stand with Ukraine. Save peace in the world!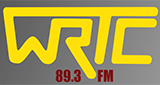 WRTC 89.3 FM
WRTC broadcasts a diverse format featuring nearly 60 weekly programs ranging from rock, jazz, Caribbean, Latin, and soul to hip hop, funk, gospel, blues, and Broadway.
WRTC 89.3 FM reviews
Great Dead set on 10/6 5 pm!

Big Shouts to @DJ_rawheat! Keep going Great!

Thanks for all the great tunes today Jeff! Sounding good!

Dean's Den is The Shizzle.

Good Lord!

I don't know what's playing Jeff, I just tuned in… But it's perfect, thanks man!

Benjamin Acker

04.03.2022

Chris Horkan I love you!!!

my guy Johnny slayying elite rock. awesome show

Woohoo! Go Mom hope your having a great time and keep up the great work! 💚🥳

Great hearing old vinyl again....