Stand with Ukraine. Save peace in the world!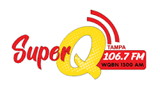 Super Q 1300 AM
Super Q 1300 AM is a radio station broadcasting a Spanish Variety format. Licensed to Temple Terrace, Florida, United States, it serves the Tampa Bay area.
Super Q 1300 AM reviews
Nora De La Pava-Olivares

29.08.2023

Me gusta mucho escucharlos y las informes que nos brindan 🙏🥰

Carlos Andrés Duque González

18.09.2022

Vivo en Colombia Súper Emisora, sigan así

Eddy ray Diaz yera

24.12.2020

Soy de Santa Clara cuba súper bella me encanta es la emisora de mi familia un fortísimo abrazo y éxitos por siempre

Ederney Arismendis

09.11.2020

No se cream q por q dejean manages positives de la emiaora son # 1

Nellybet Carina

02.09.2020

Me encanta la nueva visión mas jovial de la emisora con respecto a la música y los nuevos locutores, sigan así, solo tengo una duda ya que mi programa favorito es el morning show, y el joven nuevo Mauricio solo está 2 días, y el con Gaby hacen tremendo dúo me encanta la interacción entre ambos.

Quisiera saber cuanto vale para promover la venta de un carro en el programa del Flea Market?

Patricia Gomez

15.07.2020

Me encantó Diana la locutora de hoy! Es genial 👍🏼 Ya la había escuchado en programas pasados 👏🏼👏🏼

Pésimo que dejaran ir a JJ posadas, era el único locutor que caía bien, ahora ya solo están dos venezolanos arrogantes, y aburridos, el hombre hasta da flojera cuando habla, la locutora, si no opinas como ella, es una grosera y te corta la llamada, PERO, si eres venezolano, allí si Hasta te pregunta si quieres agregar algo👎🏼👎🏼👎🏼👎

Me gusta esta estacion de radio.

Una grande perdida para la comunidad Latina en la area de Tampa con la despedida de nuestro querido locutor JJ Posada, no se que paso pero esta es la segunda vez que pasa en esta emisora. Gavy y JJ tenían un programa muy animado.
Radio contacts
Fax: 813-620-4063