Stand with Ukraine. Save peace in the world!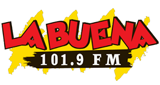 La Buena 101.9 FM
La Buena 101.9 - KLBN is a broadcast radio station in Fresno, California, United States, providing Mexican Romántica music.
Show more
La Buena 101.9 FM reviews
Rocio Adamson [Foothill HS]

12.01.2023

PUSE UN ALERTA AL ENGANO QUE HACEN DEL DISQUE GANARSE UN VIAJE Y NO LO PONEN. NO LLAMEN SE LA PASAN PIDIENDO MAS Y MAS DINERO APROXIMADAMENTE $1,000.00 PARA POR FIN CONFIRMAR RESERVACION. ESTO EN EL CONCURSO DEL GENIO LUCAS PIDEN QUE ADIVINE UNO ALGO Y SEGUN SE GANA UNO UN VIAJE. ES UNA MENTIRA Y ADEMAS NO REGRESAN DINERO

Me encanta esta emisora pero ya ase unos meses q dejo de funcionar acá en chile solo aparece q no está disponible en el país abra alguna solución saludos don cheto el mejor 😀😀😀

Laura Robinson

09.02.2022

Don cheto soñe con mi papa k fallecio el año pasado

good live songs

Alohso Bencomo

10.04.2021

Muy buena

Ma Elena Aleman

28.02.2021

Gracias por la buena informacion que dan a la Comunidad, el Presidente de Mexico debe apoyar mas el Consulado de Fresno Califor nia porque es una Comunidad muy grande e importante

Tony Correa Villanueva

29.03.2020

por que no puedo escuchar la estacion en morelia michoacan mx

Muy buena estación, Saludos a Don Cheto, a Gissel a Said y al Chino, en ese orden por favor jaja, solo quiero comentarles que en su programación falta que incluyan la música de Los Dos Carnales ahi se las encargo!

Marco Plascencia

06.02.2020

Muy buena estación de radio la escucho por internet desde Silao Guanajuato

Miguel Vazquez

28.11.2019

saludos, Desde Zapotlan Del Rey,Jalisco. Para Toda La Gente Que Nos escucha en especial A Los amigos De Nevada Y California.....
Information about the radio
El Show De Don Cheto 5am a 11am, El Sinaloa 11am a 2pm, El Show de Erazno y la Chokolata de 2pm a 7pm y El Compa Carlos de 7pm a 12am.
Radio contacts
Fax: 559.497.1125