Stand with Ukraine. Save peace in the world!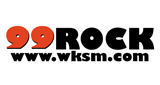 99ROCK
Fort Walton Beach, 99.5 MHz FM
99ROCK is 99.5 FM. A 50,000 watt signal from the heart of the Florida Panhandle, 99ROCK is WKSM - Fort Walton Beach, Destin, Niceville, Crestview, Navarre. 99ROCK New Rock, Classic Rock and anything else that rocks... from Pensacola to Panama City. WKSM is owned by Cumulus Broadcasting, LLC.
99ROCK reviews
Not bad. I'm actually from PA and found this radio station online. I grew up in the early 2000s and many of the songs on here take me back to my childhood! Unfortunately there's no active rock stations where I'm at, so this is a good way to see what's charting in the world of rock these days.

Slight lag in real time but good to have Radio MUSIC ON mobile device. Thanks

Sathapanik Suphapraphut

22.09.2021

From Thailand , thank.

Soledad Ilundain

08.09.2021

Listening from Uruguay ,south America,since the covid-19 started, you guys make my day while ,I have to work from home.!!Thanks for been there!!

listening from thailand ,Love y'all!

Listening while at work in Kabul Afghanistan and checking in on tropical storm Sally updates.

Andy Netherton

04.04.2020

Used to listen to you guys back in the 90's when i was in the Royal Air Force and we spent many a beautiful day being hosted by those awfully nice chaps at Eglin AFB.... best times ever and still like to listen to 99Rock, it bring those lovely memories flowing back.... specially in these times of uncertainty... Anyway Stay Safe America miss you -x-

great song for quarantine life, another brick on the wall! Tank

Love y'all! Rock On🤘

Chris Carpenter

12.12.2019

Moved to Ok. This is the first time in 8 years ive listened to 99 rock. 😁😋
Radio contacts
850-243-7676 Front Office
850-243-6806 fax