Stand with Ukraine. Save peace in the world!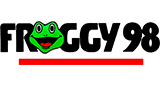 Froggy 98
Froggy 98 - WFGY is a broadcast Radio station from Altoona, Pennsylvania, United States, providing Country, Hits, Classics and Bluegrass Music.
Froggy 98 reviews
Alyssia Coffman

26.03.2023

I love froggy

What is the new text number

I love JoJo and Lily on the morning!

Where is Morgan wallen??? I haven't heard him for days, if you pulled him I won't be back. Double standards for the n word ARE NOT OK. When record labels quit producing music with that's word IN MUSIC, you can then single out one person for saying it. Any idea how many white people

You guys are the best station I have heard yet.

Francisco Lorente moril

22.08.2020

No se inglés, pero me encantan las baladas country.

Jo jo and Lily are great....cant wait to hear them back together soon!

I can always count on Froggy 98.1 to make my day!!

Love this on my phone first time!!!! Good morning Jojo and Lily!!

I love your morning show but I hate those Bloomberg commercials. I might have listen to another station.