Stand with Ukraine. Save peace in the world!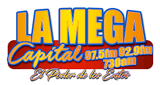 La Mega Capital
Fairfax, 92.9-97.5 MHz FM
La Mega Capital 92.9 FM, 97.5 FM y 730 AM, El Poder de los Exitos del DMV playing the best hits: Bachata, Merengue, Cumbia, Reggaeton, Vallenato, Pop, Banda y Salsa!
TOP songs on La Mega Capital
La Mega Capital reviews
Florángel Quintana

20.03.2023

La ordinariez, las groserías y la falta de profesionalismo en "El arranque de la mañana" son notables. He evaluado su desempeño por varios meses y solo puedo decir que no son profesionales de la radiodifusión. Indican noticias graves y salen con doble sentido, burlas y frases fuera de lugar. Sé que el objetivo es simplemente "entretener", pero la bajeza de los comentarios es un irrespeto a los radioescuchas. A menos de que se piense que toda la audiencia es de baja ralea. Se puede ser divertido sin ser soez. Al menos yo, ya dejé de escuchar la emisora. Sigo en la búsqueda de un espacio que me deje algo como público inteligente que soy. Lamentable ejemplo de cómo se hace radio en español en este país.

Ese concurso dónde sortean vacaciones es un fraude. Igual ya notifiqué a la policía.

Elisa Paulina Garcia

25.03.2022

Interrumpen la canción para que los locutores canten pero no cantan bien y no dejan disfrutar la musica. Si pueden guardar silencio por favor . Mil gracias

Marisol Guandique

10.02.2022

Esta buena la música

Miguelina Abad Corporan

12.11.2021

Buenos días!! El verano pasado gané un concurso que consistió en un boleto aéreo para Orlando , para visitar a Disney Word por 3 días y dos noches, era para cuatro personas, resulta, que tuve que pagar 300 dólares para impuestos y otras cosas. El problema es, que no pudimos aprovechar el paquete por motivo de la pandemia, esos parques,estuvieron cerrados y,yo quiero saber si me pueden devolver mi dinero para atrás!

Soy aduinte desde que comenso esta radio en DC y ultimamente solo ponen a residente, y la cancion de Enrique iglesias. Ustedes prometieron no ser como las demas y por eso ya no los tomare encuenta

Saludos para toda la gente de ecuador y para El Salvador

Калина Стаматова

20.09.2021

:*

Ignacio Alvarez

15.04.2020

saludo desde san francisco solis temascalcingo

Soy Pepito Guerrero

01.03.2020

ALERTA! Jose de los Santos el curandero que paga anuncios en esta emisora es un estafador!