Stand with Ukraine. Save peace in the world!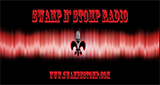 Swamp n' Stomp Radio
Swamp n' Stomp Radio is an online radio station from Monroe,Louisiana, United States, providing the best Swamp Pop, Zydeco, and Cajun music, New Country and Country Gold 24 hours/7 days a week.
Swamp n' Stomp Radio reviews
awesome

Great music. Got turned onto Cajun country by a co-worker and then found this station. This is my quarantine go-to music.

I'm trying to find a song with the lyrics, "what if I've changed my mind".